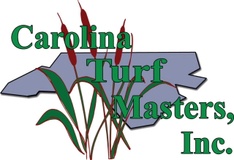 Jed J Bolch is the owner and operator of Carolina Turf Masters Inc, headquartered in Charlotte, NC. This is a highly regarded Lawn Care company in Mecklenburg County.
Jed was trained in Lawn Care hands on and over the years has built the reputation for being the go to company for when quality simply can not be sacrificed.
Some of the services Carolina Turf Masters Inc provides include: Lawn Service. Landscaping & Hardscaping. Fertilizer Applications. Turf & Natural Area Weed Control.
When it comes to providing expert Lawn Care services, nothing takes the place of experience. Jed began working in Lawn Care over 30 years ago and started Carolina Turf Masters Inc in 2008.
One of Carolina Turf Masters Inc's  goals is to provide their Mecklenburg County clients with professional, high quality, and affordable services. People often choose Carolina Turf Masters Inc for their reliability, attention to detail and customer service. With hectic schedules, it's often difficult to find the time or energy to curate and maintain your lawn, yet you know it has to be done. Carolinas Turf Masters provide that reliable service for you, and allows you to free up more time for you to focus and enjoy the things that are important to you in life. Their attention to detail always exceeds each clients expectations. From the fresh lines on the lawn to perfectly manicured shrubs, nothing is overlooked! These are just some of the points that have helped in them achieving their A+ Rating with the Better Business Bureau!
The result, one of the most successful Lawn Care companies in Charlotte!  
What do their customers think?
One fan of the company publicly wrote, "Fall aeration, over-seeding and fertilizer. Great job! On time, ensured that no seed was in the flower beds and cleaned up after the job. I will use them again next year."
Another fan of the Carolina Turf Masters Inc publicly wrote, "I use Carolina Turf Masters Inc for lawn and yard work. Last month, they did aeration of my lawn. They are very reasonable and I paid about $350 for aeration, fertilizing, and re-seeding. They are wonderful and everybody down here use them. The owner is very personable and I can ask any questions at any time about the yard."
Having owner operated experts, like Jed providing knowledgeable and expert care is an asset to Charlotte and Mecklenburg County, NC.
Business owners take risks and often work long, exhaustive hours to service their clients. There are freedoms in owning a business, but these freedoms come at a cost. Rarely acknowledged are business owners like Jed J Bolch that employ people and ensure their staff are paid continuously. Sure, people earn their wages through their time, hard work and skills, but let's take a moment and thank Jed for having and continuing the business ownership game that allows people an opportunity to produce and earn those wages.
Need Lawn Care service? Give Carolina Turf Masters Inc an opportunity by calling them at (704) 906-0774 or by visiting www.carolinaturfmasters.com
In addition to running a successful Lawn Care business, Jed strongly believes in giving back to the communities he has the opportunity to service.
So from the staff of Local Search Force that runs the County Advisory Board
Jed J Bolch, you are highly commended for your service to the residents of Mecklenburg County, for having and maintaining a business that adds to the financial well-being of NC and for your willingness to participate in social betterment activities.
Well done Jed J Bolch!
The world can use more good news!
If you are or know a business owners that wants to expand and would appreciate a Spotlight, please contact Local Search Force at 727.888.5358 or visit us on the web by clicking HERE